The Blue and John Crow Mountains
Parish: Portland
Blue and John Crow Mountains is the first Jamaican Site to be inscribed on the prestigious UNESCO World Heritage List. It is a mixes site consisting of cultural and natural attributes of outstanding historical, socio-cultural, aesthetic, scientific, and educational value. This region has become an important part of Jamaica's cultural and material heritage. The rugged terrain, diverse climate conditions and active geological processes preserve and protect a diverse, highly endemic flora and fauna while supporting ongoing evolution that gives rise to new species.
The Blue and John Crow Mountains, located in the northeastern section of Jamaica, is home to the Windward Maroons. The Maroons through protected warfare (1700 - 1740), became the first blacks in the western hemisphere to militarily defeat the English. The Maroons in Jamaica are world famous. So too are their leaders Nanny, Accompong, Kojo just to name a few. The early Maroons in Jamaica were the Tainos who fled the tyranny of the Spaniards the early colonizers of the island to the mountains to establish free, independent and autonomous societies. The rank of the Maroons were swelled by enslaved Africans who sought freedom from slavery and took to the mountains. The Maroons therefore were a combination of fleeing Tainos and Africans.
A great number of the Maroon settlements were located in the Blue and John Crow Mountains which cover about a third of the island on the eastern fringes. Each settlement was organized under a strong leader. Usually the leaders were supported by a group or by a council which would be in charge of decision making. The Maroons were a fighting force and had many conflicts with the British which led to open warfare in 1739 first Maroon War and 1795 second Maroon War.
In 1739 Kojo on behalf of the Maroons signed a peace treaty with the British. By the treaty the Maroons were given 600 hectares of land and limited freedom, which including exclusion of taxation.
Freedom from British interference allowed the Windward Maroons to develop and maintain an independent society founded on Afro centric cultural values, the authenticity of which have been maintained.
The Maroon communities of Charles Town in Portland and Scotts Hall in St. Mary are considered satellite sites to the Blue and John Crow Mountains Cultural Heritage Site.
For more information please click to view ebrochure.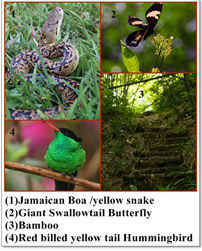 Courtesy of JCDT & JNHT