White Marl Taino Midden and Museum
Parish: St. Catherine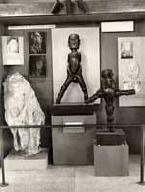 The White Marl Taino Midden and Museum is located on the Kingston to Spanish Town highway, adjacent to the White Marl Primary School. It was established in 1965 in memory of Dr. Randolph Howard, a distinguished American archaeologist.
The museum, built in the shape of a Taino Hut, forms part of the Amerindian Research Centre and the Midden is considered a most valuable Taino site in Jamaica and one of the most important in the Caribbean.

Excavations of burial grounds on the hill have located remains of a number of adults and a child. These skeletons are largely still in good condition. The burial sites are thought to range in age from seven hundred to one thousand years, and pre-dates the arrival of Columbus by several hundred years.
Included in the wealth of objects are pottery, wood carvings, jewellery, amulets, bones of animals on which the Taino fed, eating and cooking utensils. All these objects are now stored in the museum and are contributing to the understanding of the way of life and customs of a vanished race.