Port Royal Terrestrial Archaeology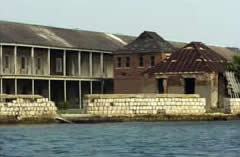 Parish: Kingston
Excavation Conducted on Land in Port Royal (Terrestrial Archaeology)
1968 - 1971
Phillip Mayes excavated at the Old Naval Dockyard. Some of the sites found are as follows; The Church of St. Paul 1682, a part of 17th century High Street and a variety of structures related the 18th and 19th century function of the area as a dockyard.

1971 - 1972
Anthony Priddy excavated the following areas in Port Royal; the Church Yard of St. Peters, Fort Charles, the University of the West Indies Marine Laboratory site and 17th -19th century dwelling house foundations located on New Street.
1975 - 1984
G. A. Aaron excavated plots between Board Street, Well Street and Well site located in Port Royal.
1986 - Present
The Jamaica National Heritage Trust, Archaeology Division has excavated several plots.