St. Peter's Church (Alley)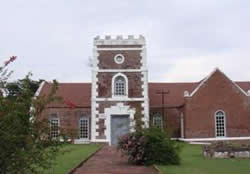 Parish: Clarendon

St. Peter's Church (Alley) is one of the oldest Anglican churches on the island. It was founded in 1671 as the parish church of Vere. The present building was erected around 1715 on foundations of the original structure. The organ, which dates from 1847, is said to be the oldest in the Commonwealth Caribbean. The church bell was cast in 1857 by Messrs Mears of Whitechapel in London, the same foundry that made Big Ben in London.
The church is made of brick and mortar. The tower, which forms the entrance to the building, is outlined by quoins and crowned with castellations. The slate roof is one of the few remaining in Jamaica.
The Church contains many monuments. Principal among them are the monuments to the Morants, the Gales, and the Sutton families. They were members of the Council and Assembly.