Bedward's Tomb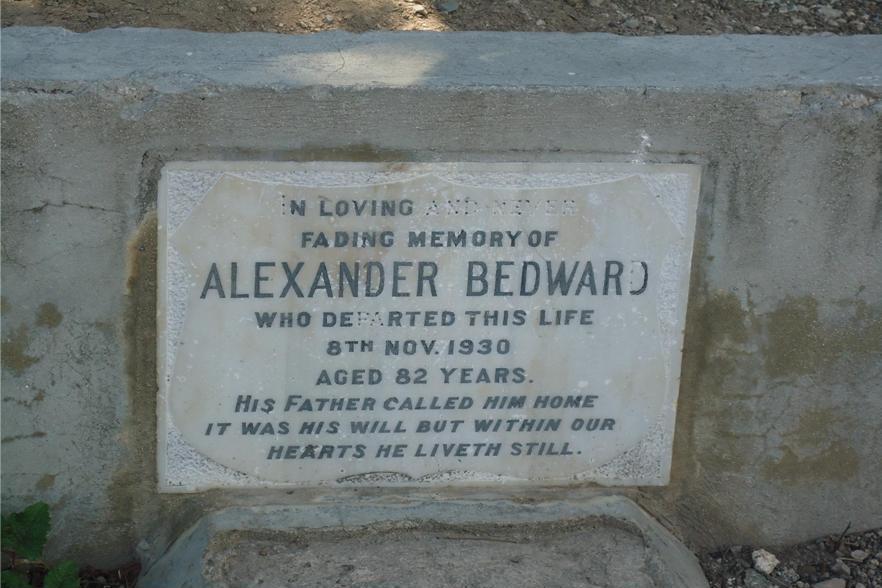 Parish: St. Andrew
The Bedward's Tomb is located in Bedward Cemetery, August Town, St. Andrew and is named in memory of Alexander Bedward (1859-1930). The tomb is a simple concrete structure with a somewhat rectangular finish. It has no noticeable architectural style but is probably the "most popular" tomb in the cemetery. The tomb has a headstone with the following words: "In loving memory of Alexander Bedward who departed this life 8TH May 1930 age 82 years. His father called him it was his will but within our hearts he liveth still"
The cemetery is one of two in the August Town area. The other is the Saint Cyprian Anglican Church Cemetery. The Bedward Cemetery appears to be a Twentieth Century cemetery. The earliest marked tomb or grave that was observed was that of Alexander Bedward (1930). Although a public cemetery, according to Mr. Herbert Campbell (Personal communication, 2013) a former member of the Jamaica Native Free Baptist Church of 7 Bryce Hill Road, August Town many former members of the church (Bedwardites) are interred in the cemetery. Among those interred in the cemetery include H. S. Woods (Shakespeare) (1800-1901) the founder of the church. Shepherd Alexander Bedward was H.S Woods's successor (Schuler 2006). Even though he is buried here his grave was not seen, possibly it was unmarked or has deteriorated. Bedward died on November 8, 1930 at the Bellevue Mental Hospital.
Sources:
Bedwardism in Jamaica June 03 2014 from http://www.anngel.com/ACIJ/history-bedwardism.htm
Brooks, A. A., History of Bedwardism of the Jamaica Native Free Baptist Church. Kingston: The Gleaner Company, 1919
Rowe, M. "Bedward a good history lesson" The Daily Gleaner March 14, 2012.
Schuler, Monica Encyclopaedia of African American Culture and History 2006 Retrieved June 03, 2014 from Encyclopedia.com: http://www.encyclopedia.com/article-1G2-3444700122/bedward-
Senior, Olive. Encyclopaedia of Jamaican Heritage St. Andrew: Twin Guinep Publishers Ltd., 2003.
Interviews:
Conversation with Artnell McDonald April 16, 2013
Conversation with Herbert Campbell April 16, 2013