Golmont View House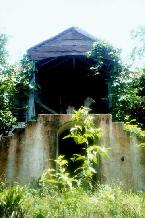 Parish: St. Elizabeth
Golmont View was purported to have been purchased for 40 gold pieces and was first named Goldmont View, but was later changed to Golmont View. The house was originally a ten bedroom house. It is also reported to have had a dungeon used in the days of slavery.
The tank on the property dates to the time when the Anglican Diocese used the house as a Rectory, then known as the St. Thomas Rectory. The tank originally came from Holland Estate and was transported from there during the horse and buggy days.
The property is situated in what is now a peanut area, but in 1984, coconuts were planted and this crop appears to be the mainstay of the small plantation.
The house was destroyed by fire in 2004.