Hayfield House

Parish: St.Catherine
Hayfield House is an excellent example of a modest Georgian residence that has been adapted to the local climate. The creolization is evident in the design of the house which has been elevated off the ground to allow for a cellar which would aid in the cooling of the house by the passage of air underneath the house. The cellar unfortunately has been blocked up. A wrap around verandah to provide shading and an outdoor entertainment or sitting space for the house was also added. Sections of the verandah have since been blocked up by the owners to provide more enclosed habitable spaces.
The planning of the house is typically Georgian with the spaces flowing into each other without circulation space and maintains the classical proportions of the windows and the doors. Wooden shutters have been added to the windows and doors not only to protect from the ravages of the hurricane but also to filter the light coming into the building. The placement of the shutters in the window cavity is peculiar as they are on the inside on the double hung sash windows and have 1" diameter holes drilled in them to allow sunlight in should the barricading of the house become necessary. No operable louvers are present on the building which is an anomaly in the language of the Jamaican Georgian.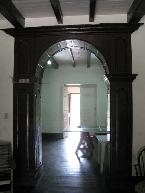 The house also has four (4) chimneys an unusual high number which might indicate the original owner's penchant for entertaining and socializing. The attic space which is large enough to be considered a habitable space has dormer windows which would also aid in the cooling of the building. The roof design is hipped again a typical feature of the particular architectural language addition for the Jamaican Georgian house.
The reality of the potential of uprisings during the period of enslavement and emancipation is evident in the defensive posture of the house. It is sited atop a knoll and commands the site and would have allowed for 360° views of the property. With the enclosing of the verandah and the expansion of the building into these spaces, this feature has been lost. The outer walls of the house is designed with regularly spaced loopholes;' 2"x 8" rectangular openings 30" from ground level to allow for the rifles and other hand held artillery to be used in relative safety by the occupants. Speculatively they were done this way so as to provide a stronger protective barrier to marauders invading the house.