New Broughton United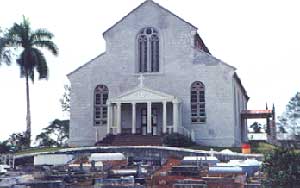 Parish: Manchester
Originally Presbyterian, the New Broughton United Church, is an impressive early Nineteenth Century structure which was constructed using regular cut stone and mortar building elements. The configuration of this structure indicates that its design is that of a single storey structure with an elevated raised roof level. The main entrance to this structure is accessible through an elaborate portico which depicts Roman architectural influence.
The construction of the church began in 1837 and was completed in 1842. The church not only served the spiritual needs of the congregation, but was also instrumental in the establishment of an orphanage, the New Broughton People's Corporative Bank and a branch of the Jamaica Agricultural Society.
In 1965 the Presbyterian Church of Jamaica was merged with the Congregational Union of Jamaica to form the United Church of Jamaica.