East Queen Street Baptist Church
Parish: Kingston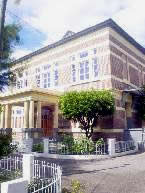 The East Queen Street Baptist Church is one of several historic churches in Kingston. Dedicated on January 22, 1822, the church had the largest Baptist membership in the world (2937 members) at the time of its dedication.
In 1966 the East Queen Street Baptist Church established the George Liele Education Centre, named for the man credited for starting the work of the Baptists in Jamaica. In 1783 George Liele, a coloured North American former enslaved African, arrived in the island and began preaching. His message was met with opposition from the plantocracy as his views reflected a stance against enslavement. Liele gave the enslaved persons his full focus unlike the established churches and they responded to him and his message in droves. His presence excited the masses, hence, after emancipation, many enslaved Africans continued to worship with the Baptists.
The East Queen Street Baptist Church has been attentive to both the spiritual and educational needs of their members. The church was instrumental in the building of the Gully School, now Calabar Primary and Junior High and today has many outreach programmes.