Goodwill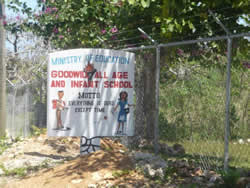 Parish: St.James
Goodwill, a Presbyterian village, was established after the abolition of slavery and in 1840 it was still in its infancy. It was settled on a small piece of fifteen acres, on the border of St James, bounded by the Kent and Orange Valley estates. The lots were divided into one quarter of an acre of land each, and the township was under the direction of Reverend George Blyth, a minister of the Scottish Missionary Society. He bought the place out of funds amounting to 900l currency, subscribed by the congregation for the purpose.
In the township, gambling, liquor stores and concubinage were not tolerated. In addition, only members of the temperance society were allowed to possess property. Inhabitants faced eviction, on being paid the value of their property if they proved to be a nuisance from quarrelsome temper or any other cause. Before becoming a householder or receiving title to property, prospective inhabitants had to sign a bond subjecting themselves to 50l, should they intentionally cause any difficulty in enforcing the regulations.
At Goodwill village, there was a heavy concentration on handicraft shops where articles such as mats, fans, baskets, and calabash ornaments could be purchased. In rural areas, such as Goodwill, and especially where soil conditions made peasant agriculture difficult, the people often attempted to supplement estate wages by the scale of domestic handicraft goods.