Long Mountain

Parish: St. Andrew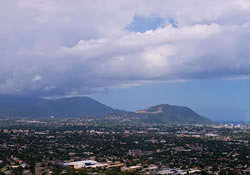 Long Mountain dates back to the 18th Century and was a part of the Mona Estate, which then had 1072 acres. Sections of the Long Mountain are also referred to as "Wakieka Hills'. On the Warieka Hills was a house built by Peter Espeut in the mid 19th Century. Espeut was a member of Assembly from 1852 - 1866.
Archaeological work on the Long Mountain has resulted in the finds of well preserved Taino settlements from which many artefacts which give valuable information on the Tainos have been recovered.
The Long Mountain is a major watershed area for Kingston and St. Andrew and is responsible for sourcing water to four of its wells.
Development by Selective Homes on Long Mountain could lead to damage and to contamination of the Mona reservoir. This area is also one of the most important green spaces in Kingston and St. Andrew and as such should be preserved.
A large number of plant and animal species that occur only in Jamaica, reside on the Long Mountain, including at least one plant found nowhere else. The Long Mountain also serves as an important over wintering site for migratory birds.