Craighton House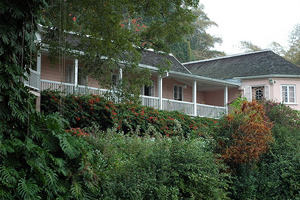 Parish: St. Andrew
Craighton House was named after its first owner, George Craighton. It is believed to have been built in 1805. Since its construction, the house has undergone extensive renovations, but this has not detracted from the dominant character of the building.
Situated approximately 2,600 feet above sea level, the house commands a good view of its surrounding environs.
Many renowned persons at one time or another were associated with the house. Among these were, Sir John Grant who was a former Governor of Jamaica, the Earl of Elgin, Sir Henry Blake who was the Governor of Jamaica in 1880, and Marion North whose paintings, some of which were done at Craighton, are displayed in the Marion North Gallery at Kew, Great Britain.
The area was noted for its production of coffee in the 1800s. Ueshima Coffee Company (UCC), the largest coffee company in Japan, bought Craighton House and Craighton Estate in 1981 and has re-established this crop at Craighton.
UCC operates in Jamaica as UCC Blue Mountain Coffee (Jamaica) Limited. Currently, a section of the building is being used as offices and the building is also used as a marketing tool for UCC Jamaica.