Hope Botanical Gardens

Parish: St. Andrew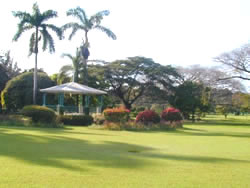 In 1881, two hundred (200) acres of Hope Estate was purchased by the Government to establish an experimental garden. Fifty (50) acres of the land was devoted to the development and distribution of new varieties of sugar cane, and ten (10) acres for planting teak, Liberian Coffee, Trinidad Cocoa and pineapples.
During the last fifty years Hope Gardens has been through periods of care and neglect. During the period of care the Garden became a place for pleasure, recreation, sightseeing and picnicking. The Garden is especially enjoyed by visitors including students from the near by universities, who seek a quiet place to relax and study.
Adjoining the Hope Botanical Gardens is the Hope Zoo which has many animals from several parts of the world. The Hope Botanical Gardens and the Hope Zoo are located on Old Hope Road in the parish of St. Andrew.
Opening Hours
Mondays – Sundays 5:30 AM
Closing Hours

6:00 PM - October – February

6:30 PM - March - September

Public Holidays The gardens will be open on all public holidays, except:

National Labour Day

National Heroes' Day