Port Royal Underwater Archaeology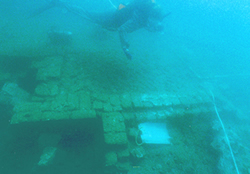 Parish: Kingston
Port Royal Underwater Archaeology
What is underwater archaeology?
Underwater archaeology is a specialized branch of archaeology which studies the human past through the investigation of artifacts or material culture, the use of structures, animal, plants and human remains, in a marine environment.
Underwater Archaeology Excavations in Port Royal
Underwater explorations and excavations have been conducted in Port Royal over the years. Here is a listing of such excavations. After the 1692 earthquake, people tried to salvage anything considered to be valuable from the area, which became known as the Sunken City.
1859
Jeremiah Murphy a naval diver, using a diving bell located the remains of Fort James.
1956 - 1959
Edwin Link dug test pits in the King's Warehouse and Fort James.
1960
Norman Scott explored Fort Carlisle.
1965 - 1968
Robert Marx excavated between twenty to thirty buildings in the Sunken City.
1981 - 1990
Institute of Nautical Archaeology of the Texas A&M University in close cooperation with the Archaeology Division excavated buildings near the intersection of Queen and High Street.