Greenwood Great House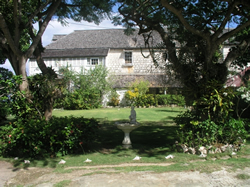 Parish: St.James
The Barretts of Wimpole Street fame came to Jamaica in the 1660s and amassed great wealth from their sugar plantations. They built Greenwood in 1790 as a guest house.
Greenwood Great House located in the parish of St. James, on Jamaica's North Coast, is a fine example of late eighteenth century Great House construction in Jamaica. Both Greenwood and Barrett Hall, a couple miles up the hill behind it, once belonged to Richard Barrett, a leading planter in the island who was once Speaker of the Assembly and Custos of the parish of St. James.
He was a cousin of the Moulton Barretts of Cinnamon Hill and thus related to the Barretts of Wimpole Street. Richard Barrett was cousin to the poet Elizabeth Barrett Browning. The Great House now functions as a museum. Included in the museum is the original library of the Barrett Family.