Williamsfield Railway Station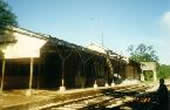 Parish: Manchester
The Williamsfield Railway Station has elements of the Jamaica/Georgian architectural style. The structure features a gable end zinc roof; timber posts each having a concrete base and finger-like timber brackets that help to support the roof.
Sash windows, aluminium louvers and solid timber doors are used throughout the structure.
This Railway Station was constructed around 1891.