May Pen Clock Tower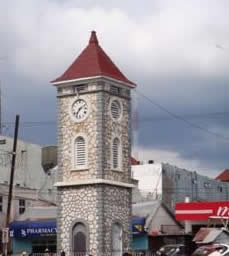 Parish: Clarendon

The May Pen Clock Tower is made of stone. It is approximately twenty-four (24) feet in height, eight (8) feet in width, and eight (8) feet in length. The exact date of its erection has not been ascertained, but it appears to have been constructed after World War II.
On the west side of the Tower is the following inscription:
The Great War 1914-1918: Message to the Government of Jamaica From the Secretary of State for the Colonies 16th November 1918. Now that the war has been brought to a victorious conclusion, I desire on behalf of His Majesty's Government, to express to the people of Jamaica and her dependencies, the mother country's high appreciation of the military efforts they have made, their cheerful acceptance of compulsory service in the common cause, and their struggle in spite of the difficulties in which visitations of nature have involved them at home. I recall with gratitude the share of men of Jamaica in our final victory in Palestine.