Bromley Great house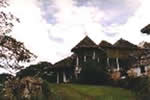 Parish: St. Ann
Bromley Great House is located in the Walkers Wood district of St. Ann.
The Great House, made of wood with cut stone foundation, dates from the Eighteenth Century. It has a wrap around veranda and sash windows which helps to keep the house cool. At the front of the Great House there is an elegant porte cochere with square wooden columns. The Bay area is octagonal in shape with fixed glass panels, louvre windows and lattice work above. The roof is of cedar shingles with cap and comb and finials.
The property is the home of the famous Walkers Wood Jerk Seasoning and condiments.