Ackendown Castle Ruin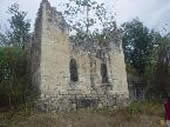 Parish: Westmoreland
On the northern side of the main road between the towns of Savanna-la-mar and Black River, is the Ackendown Castle ruin. According to a plaque on the inner wall, the castle was built by Archibald Campbell (1781-1833) of the family of Auchenbreck in Argyll in Scotland. An inscription in lead on a stone on one of the inner walls of the link joining the two towers reads as follows:
Here lie the remains of Archibald Campbell of the family of Auchenbeck in Argyll in Scotland third son of the Hon. John Campbell of New Hope in this parish died 21st April 1833 aged 52 years. This Castle which is now His monument, was built by him. R.I.P.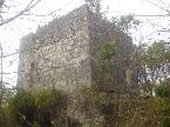 The castle consists of the stone remains of an eastern and western tower connected by what is said to have been an underground passage. The style in which the masonry has been constructed is unusual in Jamaica—rather more medieval in character, making the castle quite unique in this respect.
The Ackendown Castle ruin was declared as a national monument by the Jamaica National Heritage Trust on December 21, 2006.