About JNHT - Communications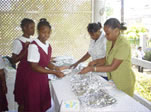 The main objective of the communication programme is to make persons aware of the heritage resources of the island and the importance of preserving, protecting and developing these resources. Through public relations, the work of the JNHT is highlighted in the media. The organisation also conducts seminars, conferences - (the most recent being the International Association for Caribbean Archaeology (July 2007) and special events. The Division also produces brochures and pamphlets.

In recent times, the JNHT also expanded its public education role through strategic partnering with popular radio stations IRIE FM and RJR 94FM on their "In Search Of" "Radiocation" series respectively where we go into communities and schools to trace the steps and unearth information the nation's heroes and bring information about our cultural heritage to our target audience and the listening public.
Among annual activities organized to commemorate the heritage are :
Taino Day (May 5) - an event celebrating the original inhabitants of the island at Seville Heritage Park.
Anniversary of the devastating 1692 earthquake that destroyed Port Royal (June 7).
Emancipation Jubilee (July 31-Aug.1) - To celebrate the African Ancestors.
Heritage Expo (October) - To celebrate all aspects of the heritage.
The Division's main responsibilities are :
The development of a public education programme to stimulate interest in and motivate the public to protect the cultural heritage of the island;
To highlight the work of the JNHT in the management and development of our heritage assets;
To provide information to the public;
To establish and liaise with community groups to assist in the protection and development of parish heritage resources;
To create opportunities for the economic development of heritage sites;
To promote a sense of pride and national identity through the activities of the Trust.