Special Communities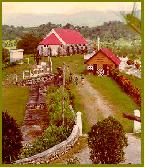 These communities were settled by specific groups of people under special or difficult circumstances.
The Maroons, after signing a peace treaty with the British in 1739, became entitled to land. Today, the principal Maroon communities are Accompong, Moore Town, Scots Hall and Charles Town.
Seaford Town, in 1835, became home to over 200 German settlers. Descendants of the original settlers still call this township home.