Tours
Welcome to the JNHT Tour Sites; a stimulating insight into some of the county's unique historic landmarks and other famous heritage sites which offers both guided and unguided tours.
Jamaica is enhanced by a rich ancient heritage going back over 300 years. Including such historic places as the Rio Nuevo battle site, Rose Hall Great House, and Port Royal/Port Charles which attracts thousands of tourists every year.
Here are links to information on places of interest, relative to Jamaica's heritage.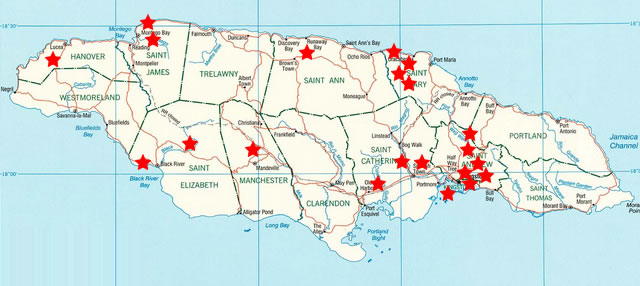 Blenheim -

Hanover

- birthplace of Sir Alexander Bustamante, first prime minister of Jamaica.
Roxborough -

Manchester

- birthplace of National Hero, the Right Excellent Norman Washington.
Seville Heritage Park -

St. Ann

- historic Seville Estate, is the Seville Great House (Plantation House) & Heritage Park.
Rio Nuevo Battle Site -

St. Mary

- site of the final pitched battle between British and Spanish forces to determine possession of Jamaica.
Mountain River Cave -

St. Catherine

- Mountain River Cave located in the lush green terrains of Cudjoe Hill, St. Catherine where there is a large collection of Taino art.
Historic Spanish Town Square -

St. Catherine

- Spanish Town, built by the Spanish after Sevilla Nueva (New Seville) was abandoned, dates from 1534.
Port Royal & Fort Charles - Kingston -

The first fort to be erected in Port Royal was Fort Charles.

National Heroes Park - Kingston -

The area on which the National Heroes Park now stands was once one of the most popular spots in Kingston.

Liberty Hall - Kingston -

Liberty Hall located at 76 King Street, Kingston was the centre of activities for the Kingston division of The U.N.I.A.

Accompong - St. Elizabeth - The town was founded in 1739 when land was given to the Maroons as part of a Peace Treaty with the British.

 

Bob Marley Museum - St. Andrew - The former residence of the Hon. Robert Nesta Marley.

 

Brimmer Hall Great House - St.Mary -

Built during the 18th Century by the plantocracy during the days of slavery.

Bustamante Museum - St. Andrew - The former residence of the late Sir Alexander Bustamante.
Devon House - St.Andrew -

a fine example of nineteenth (19th) century domestic architecture in Jamaica.

Firefly House - St.Mary -

 

Home of British Playwright Noel Coward. It was originally called "Look Out" by the famous pirate Henry Morgan since it had been used for that purpose.
Greenwood Great House - St. James -

The Barretts of Wimpole Street fame came to Jamaica in the 1660s and amassed great wealth from their sugar plantations.

They built Greenwood great house.
Hollywell National Park - St. Andrew -

The forest Park is a sanctuary for several species of birds, ferns, flowers, and trees which are rarely seen in other parts of the island.

Institute of Jamaica - Kingston -

Established in 1879 during the governorship of Sir Anthony Musgrave, for the encouragement of Literature, Science and Art.

Lovers' Leap - St. Elizabeth -

A cliff with a drop of approximately 1,600 feet. The legend associated with the site is that two slave lovers hand in hand plunged to their death.

Prospect Great House - St. Mary -

Early eighteen Century Great House on the Prospect Estate is an

Rose Hall Great House - St. James -

With the many stories about its former owner, Annie Palmer and the cruelty she meted out to her slaves, Rose Hall Great House is a very popular visitor attraction.

Two Sisters Cave - St. Catherine - Each cave has a large sink hole, which contains fresh water. It is possible that these reservoirs served as sources of fresh water for the Tainos.

 

Trench Town Culture Yard - Kingston -

The Trench Town Culture Yard is one of the many houses which was built by the Central Housing Authority between 1940 & 1949.