Monument to the Most Honourable Sir Donald Sangster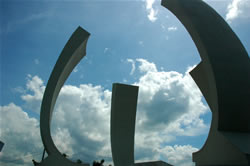 Parish: Kingston
The Monument to the Most Honourable Sir Donald Sangster was designed by Mostyn F. Campbell and was completed in 1968.
Sir Donald Sangster always supported the deep tenets of democracy, hence the structure which includes the tomb is an open one allowing viewers free access. The shafts rising and expanding depict his humble origin and his later expansive development. Each shaft is terminated in a manner to suggest that his work was unfinished.
In creating this Monument, the architect also bore in mind these words which were expressed by the then Jamaica National Trust Commission:
"Our own subjective feeling about Sir Donald Sangster is that he was a man who would have scorned glorification in expensive structures, a man who should be commemorated by a simple powerful design."