Invercauld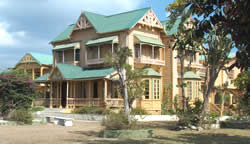 Parish: St. Elizabeth

Invercauld located on Black River's seaside High Street is a fine example of late Jamaican Georgian architecture. Historically, Invercauld should be seen as part of a fine streetscape – from the High Street and parish church to the hospital and spa. This streetscape includes other examples of decorative Georgian architecture, for example, residences such as Waterloo and Magdala.
Built by Patrick Leyden for M. C. Farquharson in 1894, Invercauld's architectural form is closely related to its next door neighbour, Magdala. The two storey residence is constructed of timber throughout, set on a random stone plinth. Structural arrangement is essential logical and uncomplicated, a characteristic of Georgian architecture. The particular external quality of the building is the result of an emphasis given to the roof gables, bay windows and intricately patterned fretwork and valencing.
Apart from a few minor modifications, the house remains in its original form and layout. In the 1950s, the original shingled roof was changed for corrugated metal sheeting.