Greenvale Railway Station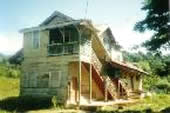 Parish: Manchester

The Greenvale Railway Station is a two-storey Jamaica/Georgian timber structure. The ground floor has sash windows and recessed panel timber doors. Leading to the stationmaster's quarters on the upper floor are two flights of timber staircases.
The staircases and balcony are partially supported by timber posts. The features throughout the upper floor are sash and louver windows, a downward fishtail fretwork on the eave of the balcony roof and the cross-shaped gable end zinc roof.
Greenvale Railway Station was constructed around 1892.