Monument to the Most Honourable Michael Manley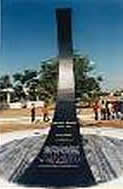 Parish: Kingston
The Monument to the Most Honourable Michael Manley was designed by Mark and Susan Taylor and was dedicated on March 15, 2002.
Threading its way through the man, represented by the circular base and recessed vault, is a clear indication of a path to be followed, a set system of reference, the "touchstone of equality." Once dormant in the man, this "touchstone" emerges as a self expressed motivating force in Manley's life work and is given a shape as it is translated into action. The arch develops in space moving irreversibly towards a perfect state, a goal to be attained: equality and ultimately, self-realization and social justice for all.
As a means of representing the actual touchstone, the Monument is clad with Jamaican black marble used in 50 mm thick evenly spaced slabs. The marble is etched with selected quotes from Manley on the subject of equality. These inscriptions represent, in a real sense, the streaks left on the touchstone once the words have been tested and their true worth and genuineness proven.