Manning's School
Parish: Westmoreland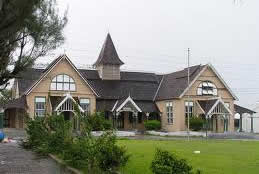 The history of the Manning's School dates back to a quarter of a century before the actual setting up of the school when in 1711, Thomas Manning, a Westmoreland planter, bequeathed a gift of land for the setting up of a free school in the parish of Westmoreland.
The legal formalities which facilitated the effecting of his will were formalised in 1738 when the Jamaica Assembly made this possible by the passing of an Act, Eleventh George II chapter 9, after which the Free School was formally established.
It is interesting to note that the school was established on the present site near Savanna-la-mar instead of on the lands left by Manning at Burnt Savannah Pen at the northern end of the George's Plain.
In 1780, a hurricane did extensive damage to the school and the Board petitioned the House of Assembly for help to effect repairs.
As the years progressed, the 20th Century led to the reorganization of the School into a Modern Grammar School. The oldest existing part of the School which was built in the early 20th Century is known as the Thomas Manning Building, named in honour of the School's founder. It is the most outstanding building on the entire School property and is currently used as library and classrooms.
The Thomas Manning Building is a delightful structure which is constructed from timber and the rest on a masonry plinth. Typical of the Georgian architecture, the building is perfectly symmetrical in elevation. However, for its function in the tropics, the Architect has added several features. On all sides the building has been fitted with deep verandas to add shade. The vented steep gable roof expels hot air, and a cupola with fixed jalousies provide relief for any warm air trapped in the roof. The features combined have created a perfect example of colonial architecture.