The Jamaica Free Baptist Church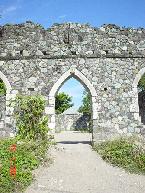 Parish: St. Andrew
In 1876, H. E. S. Woods, more popularly known as Shakespeare, began preaching in the hills of the old parish of St. David, which was later incorporated into the parish of St. Thomas. His activities led to the founding of the Jamaica Native Free Baptist Church. By 1886, a young man by the name of Alexander Bedward was converted to the church movement and was later chosen to be his successor. Although Alexander Bedward was not the founder of the church, it was he who "transformed it from just another revivalist church to its final position as a mass movement, the prototype of nationalist movement, and as such a forerunner to the Pan-Caribbean nationalist movement of the early twentieth century."
In 1893, Bedward, also known as the "Shepherd", claimed he was divinely instructed to build a Church and in June 1894, the cornerstone was laid. The original church at August Town Road was not completed until 1905, and bears a plaque with the inscription "Union Camp organized 1894, and built in 1905."
The church at 67 August Town Road bears significance on two levels. It is a relic of a "politico-religious nationalist, who in a society marked by racism, economic oppression and social and political inequality for the black majority, dared to challenge the status quo of the oppressed." Indubitably, this is not a view necessarily subscribed to by everyone; Bedward's syncretic revivalism was marked by much controversy and ridicule. This does not however undermine Bedward's status as an important if unconventional figure.
Secondly, 67 August Road is architecturally significant which provides an insight into the development of Jamaican culture and architecture; representing the confluence of European influences and Jamaican architectural pragmatism.
The Jamaica Free Baptist Church at 67 August Town Road was declared a national monument by the Jamaica National Heritage Trust on May 13, 1999.

References

Satchell, Vermont M. Abstract of Religion and protest in Jamaica: Alexander Bedward and the Jamaican native Baptist free church in August Town, Jamaica 1889-1921.

Ibid.