Hugh Shearer's Birthplace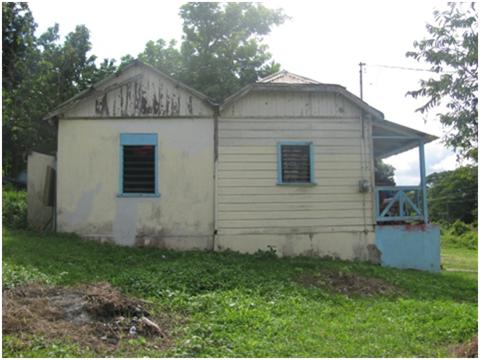 Parish: Trelawny
The house in which the Most Hon. Hugh Shearer spent much of his boyhood is located on the main road between Falmouth and Martha Brae. The building which appears to be a late 19th century structure is very small and quaint. It seems to be a mixture of vernacular Jamaican architecture and modern materials. The structure is partial wood and partial concrete. Sitting on a gentle gradient, the house sits on top of a concrete base. It boasts the traditional vernacular elements – the veranda, with a wooden banister. It could be assumed based on the asymmetry that an addition was made to the original structure. The main building follows the symmetry evident in most vernacular structures with a staircase placed in the centre that leads right up to the veranda. The windows are wooden louvers and the doors are also wooden. The structure is covered by a combination of hip and gable roof and shed made of aluminum sheeting.
It was at this site we were told that the Most Hon. Hugh Shearer was born to parents James Shearer a World War One veteran and Esther Lindo a dressmaker on May 18, 1923. However, the present house was not the one in which Mr. Shearer was born. This house was a much later construction built by Shearer' mother, however Shearer lived in the present house until his teen years. According to Mr. Desmond Lindo, a cousin and contemporary of Mr. Shearer, the house in which Mr. Shearer was born was of wattle and daub construction and was situated to the back of the present building. The wattle and daub house no longer exists. It is said that the house in Hugh Shearer lived in was built by his mother. Mr. Shearer spent much of his boyhood days in Martha Brae where he attended the Barracks Elementary School in Falmouth before going on to St. Simons College in Kingston after obtaining a scholarship. Like other boys in the community he played "ball", swam and caught shrimps in the Martha Brae River. We were told by Mr. Lindo that while at high school and even as Prime Minister Mr. Shearer would return to his rural village and spent time at the house with friends and his mother before heading to Good Hope for quiet times.
The house although a simple wooden mixture of the Jamaica Vernacular and modern elements is of significance to the area because of its association. It is associated with Jamaica's third Prime Minister and Statesman the Most Hon. Hugh Shearer. It is the desire of the Trelawny Parish Council to restore the building and showcase it as a museum befitting the statue of the man who has left us a great legacy.